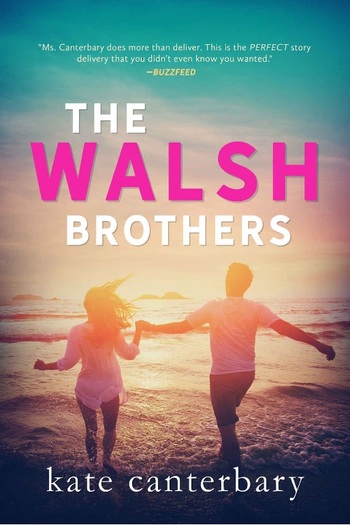 Release Date
: September 21, 2018
Series:
The Walsh Family
This smart, steamy three-book collection introduces the brothers Walsh — Matt, Patrick, and Sam — and their quest to keep their family's third-generation architecture firm going. Between demolition and restoration, they take unexpected tumbles into love.
Start the bestselling family series that's been featured on Buzzfeed, Hypable, and USA Today.
Underneath It All
One hot architect. One naughty schoolteacher. One crazy night that changes everything.
Meet Lauren Halsted. It's all the little things–the action plans, the long-kept promises–that started falling apart when my life slipped into controlled chaos. After I fell ass-over-elbow into Matthew Walsh's arms.
Meet Matthew Walsh. A rebellious streak ran through Lauren Halsted. It was fierce and unrelentingly beautiful, and woven through too many good girl layers to count, and she wasn't letting anyone tell her what to do. Unless, of course, she was naked.
The Space Between
A brilliant, alpha architect. A smart, sultry apprentice. What could possibly go wrong?
Patrick
That hair. That damn hair. It was everywhere, always, and I wanted to tangle my fingers in those dark curls and pull. And that would be fine if she wasn't my apprentice.
Andy
An incredibly hot architect with the most expressive hazel eyes I ever encountered and entirely too much talent in and out of the bedroom wasn't part of my original plan. With Patrick Walsh leaving love notes in the form of bite marks all over my body, it seems my plan was undergoing some renovations.
Necessary Restorations
He's a flawed perfectionist…
I can read women better than any blueprint. I understand their thoughts and feelings, their secret desires and insecurities. But all bets are off when Tiel Desai slams into my life. I can't read the gorgeous conservatory-trained violinist, but she's the only one keeping me from shattering by small degrees, and I can't let her go.
She's wildly independent…
My past—and New Jersey—are far behind me, and now my life is blissfully full of music: playing, teaching, and lecturing, and scouring Boston's underground scene with an annoyingly beautiful, troubled, tattooed architect. I'm defenseless against his rooftop kisses, our nearly naked dance parties, the snuggletimes that turn into sexytimes, and his deep, demanding voice. I have Sam Walsh stuck in my head like a song on repeat, and I'm happy pretending history won't catch up with me.
These books feature the following CWs: history of emotional and physical abuse by a parent; on-page moments of emotional and physical abuse by a parent; parent illness; parent loss; estranged family members; brief mention of caring for a sibling with chronic illness; chronic illness experienced by a main character; family abandonment experienced by a main character; infidelity in a main character's previous relationship; divorce experienced by a main character.